Medicine Hat Pottery Company Ltd.
Description: The first pottery manufacturer in Medicine Hat, Alberta.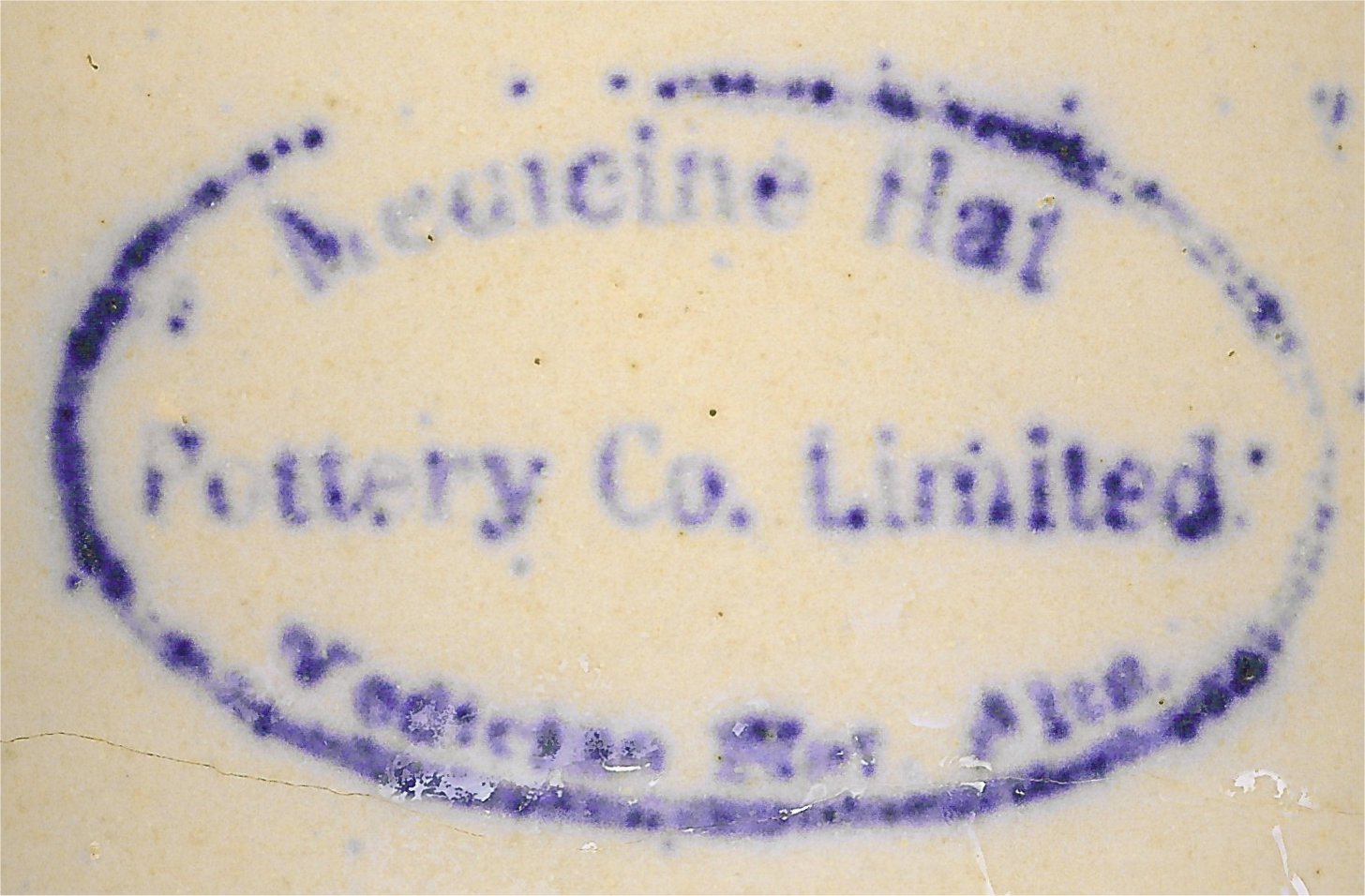 G.1 stamp
The first pottery factory, established in Medicine Hat in 1912 under the supervision of John A. MacIntyre, was an offshoot of the Western Porcelain Manufacturing Company of Spokane, Washington. By 1913, its two thirty-foot, round downdraught kilns were up and running, and with a labour force of about fifty men, the factory was soon producing a good variety of products.
Not much is known about the actual products as few items have survived the ravages of time. It is quite likely that most of their smaller products were not marked with the name of the company, but the larger ones were. To date, the only stamped products that have shown up are crocks that had the name of the company arranged within an encircling oval, much like the oval stamp used by the later Medalta Potteries Limited. The top half of the crock was glazed a dark brown while the bottom half was all but plain. The size3 was emblazoned in black oxide on the side of the crock above the company's stamp, the decorative numeral attesting to the number of American gallons that it held.
That they made other products—including a combinette or slop jar, a shouldered jug, a teapot and two styles of pitchers—has been determined from an advertisement illustrating those products. However, it is probably safe to assume that its product line included many other pieces such as water coolers, butter churns, bean pots and mixing bowls. All these products were produced by Medalta Stoneware Limited which took over the factory, and I believe that Medalta's early products are a reflection of the wares of the original company.
Even though Mr. W.E. Clark, the superintendent of the new plant, was an experienced potter from Zanesville, Ohio, he could not keep the fledgling in business. Until the stoneware clays were located and developed at Eastend, Saskatchewan, the company depended upon clay imported from Washington, and the cost of transporting these clays was just too expensive at over $10.00 per ton. The Saskatchewan clays which could be delivered to Medicine Hat at about $2.00 a ton were found just a little too late. The pottery closed its doors in early 1914, but not for long. It was soon in business again producing wares under the name Medalta.
Copyright rongetty.com, All Rights Reserved