The Ogilvie Venture
In 1926, the Ogilvie Flour Mills in Medicine Hat approached Medalta about having the factory supply them with items that would be given to customers buying the flour products of the mill. The merchants carrying Ogilvie's products would be the means of distributing the items. Even though the small-town stores shared the cost of the premiums with the Ogilvie company, it was a deal that was just too good to turn down. What better way to keep the goodwill of your regular customers, not to mention getting new ones, than to give a special gift at Christmas!
The 1926 premium differed from those of later years in several respects. For one, the merchants were given a choice as to what product they could get. Most chose a mixing bowl, either six or seven inches in diameter, but a few picked a one-pint milk pitcher and others an individual-sized Globe teapot. The main difference, though, was that the premiums of 1926 were not marked with the name of the participating merchant or Ogilvie's slogan. That practice started the following year.
For all practical purposes we can say that 1927 was the start of Medalta producing advertising premiums, or "named" goods as they were sometimes called. Prior to this, Medalta had put out a few items to advertise its own name or its Toronto distributor, the Medicine Hat Pottery Company, but not much else unless you include the ginger beer bottles. They had captured some advertising business as at least three firms in the Montreal area, all making head-cheese, were getting bowls with their names on them—Art Beaudin, J.B. Labrecque and R. Lafontaine. And the orders were not that small either. For example, just one of Labrecque's orders was for 4394 five-inch bowls and 2443 cups.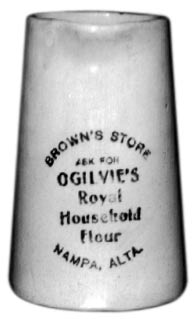 Brown's Store Ogilvie's Royal Household Flour Nampa, Alta.
Copyright rongetty.com, All Rights Reserved