Alberta Potteries Redcliff Ltd. (Wyatt's Company)
Description: In 1931 Bill Wyatt and sons set up a pottery in Redcliff, Alberta to compete with Medalta Potteries.
When Bill Wyatt and his sons set out on their own, they did not have a "Daddy Warbucks" to build a brand new factory for them. The crash of 29 was behind them, but the effects of the ensuing Depression were just starting to be felt. In spite of this, Wyatt remained optimistic, and after one brief setback, established his Alberta Potteries Limited in an old automobile factory which the town of Redcliff sold to him at the nominal price of $1.00. To build his plant, he found financial help in the local community, with many ranchers taking a chance on buying shares in Wyatt's new company.
Photo not found
or not published
They knew that Wyatt had what was needed the most; know-how. That, coupled with the will to succeed, soon resulted in an up and running factory. It was not very large—only one kiln to start with; the equipment was not new—much of it was bought second-hand from Medalta; they had to build a good part of the plant themselves; and, they had to find and train the men to do the various jobs. And they did it. By 1931, they were open for business, employing around fifteen workmen, ones who were often asked to wait an extra week or two for their wages.
The new pottery never offered Medalta any real competition even though the wares they made were very similar to Medalta's and were being sold at a lower price. Wyatt kept his product line to the items that were most popular at the time. His crocks, for example, were limited to sizes from one to ten gallons, the ones most commonly used for home pickling and storage. He also made several sizes of butter churns and butter tubs. All of these stoneware products were stamped on the side with the name of the pottery on a banner arced above a beaver. Items displaying this attractive "beaver" trademark have now become highly collectible and are prized over the relatively plain Medalta ones. Most now sell in the $40.00 to $80.00 range.
Other products were generally marked with an in-mould or impressed stamp, although several oxide varieties are known. The range of products is quite surprising considering the short time that Wyatt was in business and the size of his operation. He made over six different styles of mixing bowls, each available in several sizes. Some bowls were given pattern names such as "Elite" or "Service" or "Rex". They produced chicken fountains, spittoons, bean pots, pudding bowls, meat pie pans, casseroles, custard cups, barrel-shaped cookie jars and at least six different styles of pitchers.15 They even had two ashtrays (one with a buffalo embossed in the bottom of the ash holder) and three styles of teapots. One was plain but large, another they called their "Perfection" teapot, and the third was a two-piece percolating one. The top piece of the percolating one had a perforated cup at the bottom for the tea leaves, with the cup fitting snugly into the lower pot. Of course, if you wanted to, you could use the lower pot as a regular teapot.
Wyatt also competed with Medalta for the advertising market, but by the number of samples that have been found, it was not much of a contest. But if a collector searches hard enough, he will eventually find an advertising ashtray, mixing bowl, pudding bowl or meat pie pan. Some of the firms or store owner's names that you may find are the National System of Baking, The Bellevue Bakery, J.C. Falconer, Waterton Lakes Hotel & Chalets, and the Dominion Hotel.
They also made a souvenir cup to mark the 1935 Silver Jubilee of King George V and Queen Mary. On one side was an image of the King and Queen while the opposite side said:
PRESENTED TO
THE CHILDREN OF
REDCLIFF, ALTA.
IN COMMEMORATION OF
THE SILVER JUBILEE OF
KING GEORGE V
AND
QUEEN MARY
MAY 6, 1935
You can also find examples for the towns of Canmore, Alberta, and Shaunavon, Saskatchewan. I would venture to say that other towns also purchased these cups to give to school children, but so far these are the only ones that have surfaced in collections. These cups which are quite hard to find are now priced in the $100.00 to $150.00 range.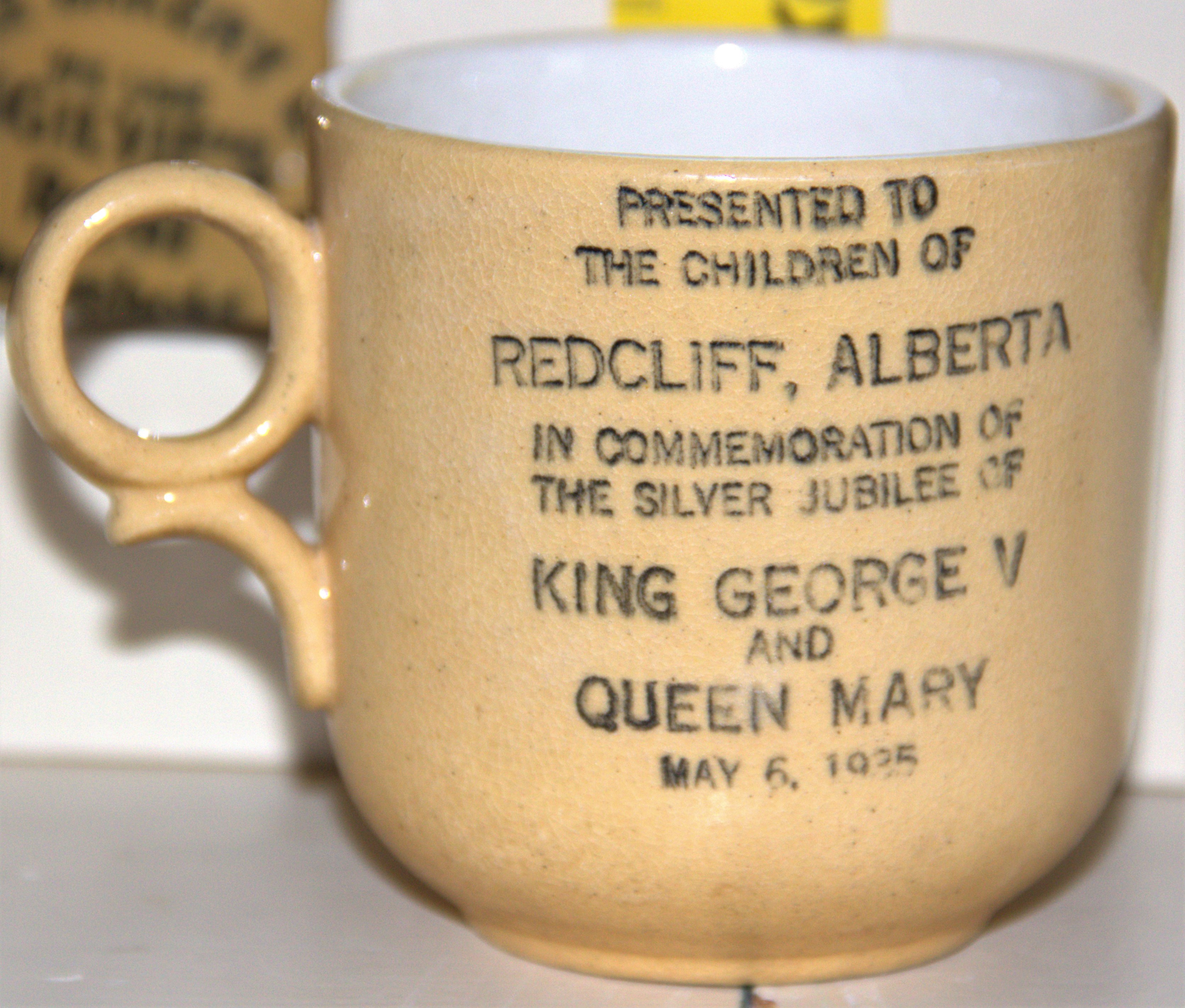 Alberta Potteries did not overlook the artware market. They, like Medalta, assigned style numbers to their vases and jardinieres. The line appears to have been quite limited with the assigned numbers going up by tens. The following have been recorded:
No. 1 7"h vase - rose design
No. 20 8 1/2"h jardiniere - Grecian motif
No. 30 9 3/4"h vase - Grecian motif
No. 40 vase - Grecian dancers
No. 50 11"h vase - Dutch kids design
No. 60 9 1/2"h vase - Dutch kids design
No. 70 7 1/2"h jardiniere - Dutch kids design
No. 80 8 1/2"h vase - hourglass shape - dancers
Some artwares were unnumbered including a jardiniere and a bulb bowl. They also made some bookends, but I am not sure that they were production items. The pairs I saw were owned by a Wyatt family member; one design was a horse's head while the other was an Indian's head.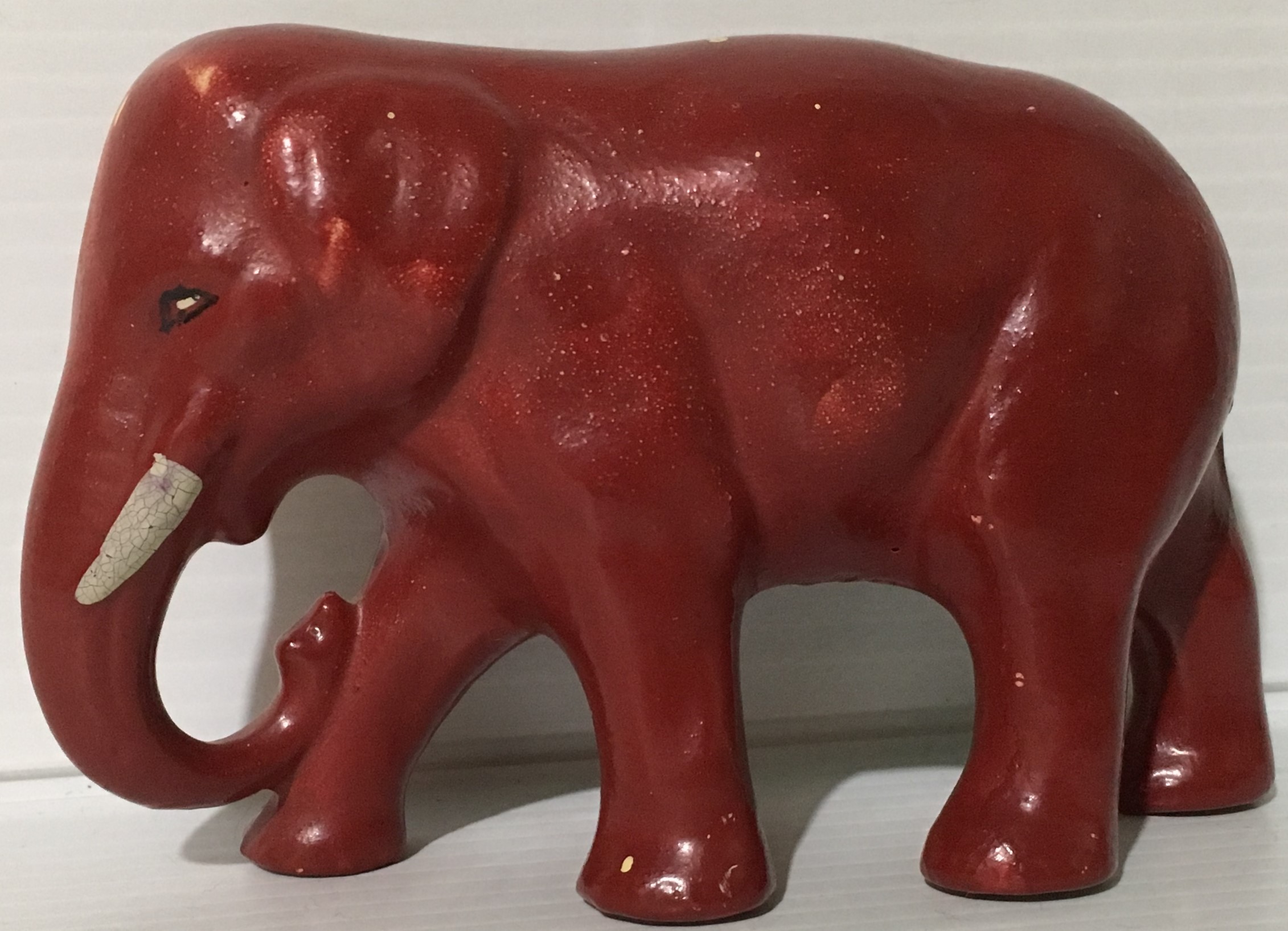 Copyright rongetty.com, All Rights Reserved