Alberta Potteries Limited (Yuill's Company)
Description: Hop Yuill sets up a factory in Redcliff to make bowls but soon branches into a wide range of products to complete with Medalta. Both Luke Lindoe and Malcolm McArthur were part of this venture.
The Medicine Hat Potteries was doing well. Its new factory, only a couple of years old, was off to a good start. It was equipped to produce a good variety of dishes, and it was well manned using the skilled workers which they had been able to entice from Medalta. But one thing they were not really set up for was the production of mixing bowls, and there was a market out there waiting for the investor that had enough foresight and adventurous spirit to capture it. Hop (Harlan) Yuill was such a man.
Hop had worked in the family business for a good many years and was ready to go out on his own. In partnership with Mr. Clark (the one who had convinced him to invest in the mixing bowl venture), he bought the old Alberta Potteries plant and soon had it in full operation.
Luke Lindoe who had been working in the Medicine Hat Potteries plant moved to Redcliff to take over as plant foreman. With a staff of about six, they soon got into the mixing bowl trade, concentrating for the first six months or so on producing a single-burn, jiggered, mixing bowl. The bowl, available in several different sizes, was made using a yellow burning clay and finished with a raw lead glaze. Upon firing, it took on a pinkish hue; and, from examples that have been found in collections, it also crazed quite badly. Within a couple of years, the same bowl was available in a variety of colours such as lime green, yellow and blue.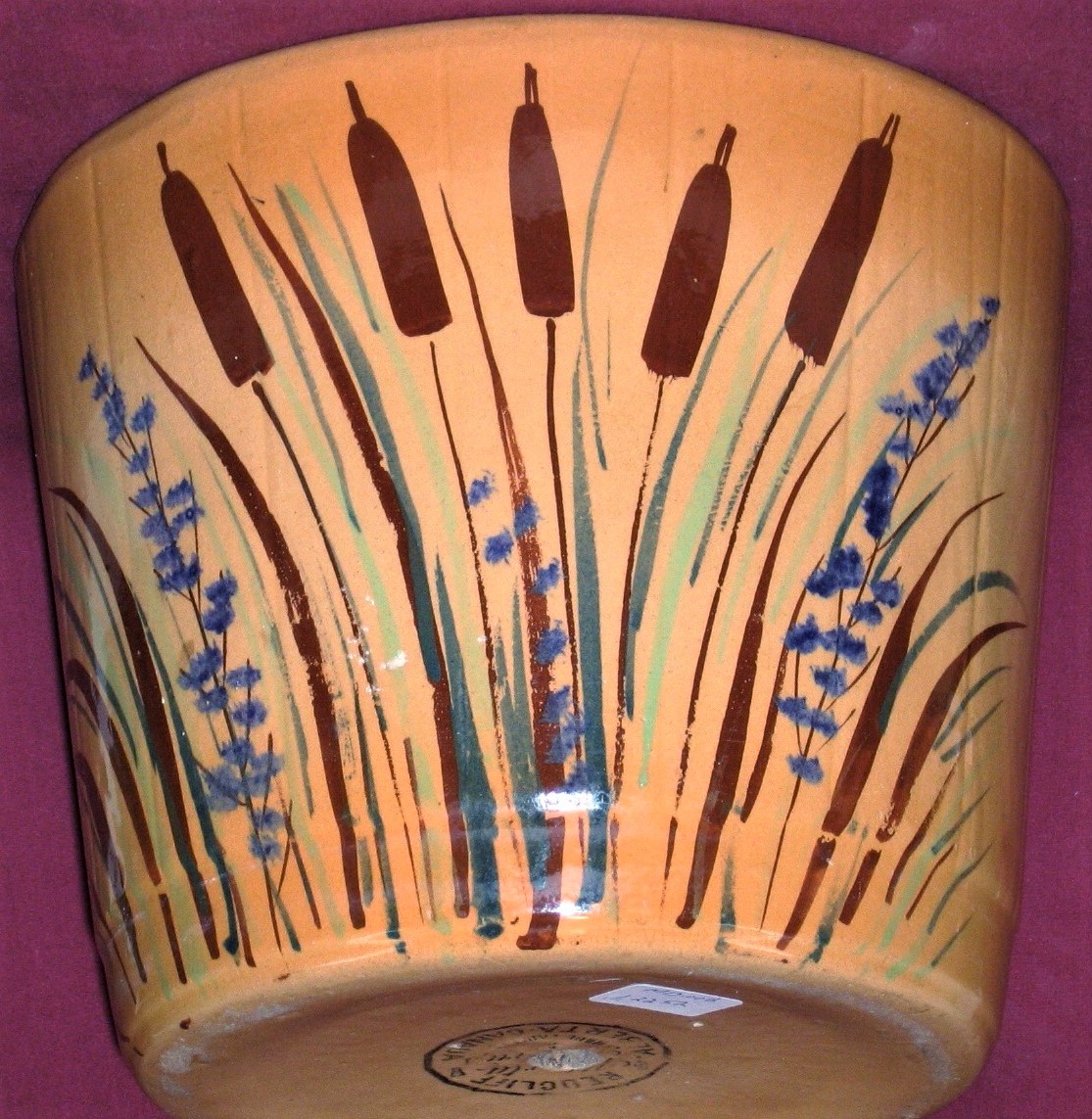 It is too bad that Luke Lindoe did not stay with the company very long as he probably would have brought quite a unique look to the products of the Alberta Potteries had he been given a chance. Luke had come west to work in the pottery trade, hoping to put his training and interest as a designer to good use. He thought he would get that chance at the Redcliff factory, and when he didn't, he left, eventually setting up his own venture in Calgary.
In time, the Redcliff plant did branch out to produce a good range of products. Stonewares were much the same as those being made in the two Medicine Hat factories: tall crocks, butter crocks, bean pots, jardinieres and an umbrella stand. While its artware line was quite small, it did include four or more styles of vases, a bulb bowl, a rabbit-shaped planter, a rectangular planter and a set of log-shaped planters. The rabbit planter is so close to Medalta's in shape that it is hard to tell them apart.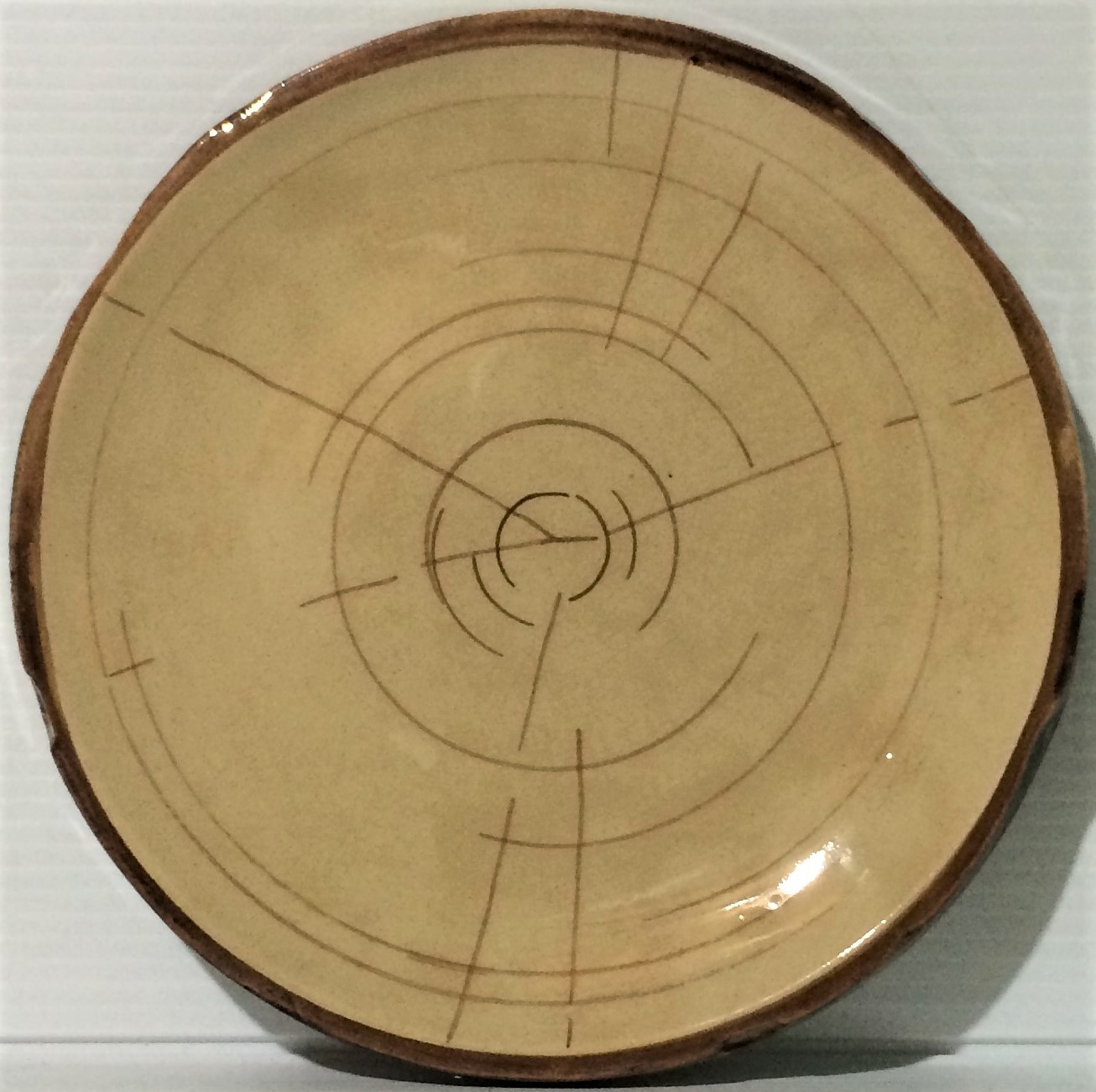 dinner plate
Alberta Potteries also made household items: an ashtray, a casserole dish, a set of baking dishes, a variety of pudding, mixing and salad bowls, a beer stein and even coloured dishes. The dishes, available in various pastel shades, included a soup bowl, coffee mug and salad bowl. They probably also made plates, but so far none have shown up in the collections that have been examined. Shortly after the Yuill family sold the Medicine Hat Potteries to Marwell, Malcolm McArthur went to Redcliff to manage Hop Yuill's Alberta Potteries. There Mac developed what he called his birchbark pattern barbecue set. Each of the pieces in the set had the appearance of a log or branch. The plates, found in seven and ten-inch sizes, look like a cross-sectioned log—almost as if the log was sawn into 1/2 inch slices. On the plates and saucers, encircling rings and radial bands simulate the annual growth rings of the tree. The outer border was rough, bark-like, and coloured to look like the bark of the birch tree. The cup's handle was twig-like, and the bottom third was beveled as if it had been hewn with an ax. Similarly, the sugar and cereal bowls had a hewn base. The milk pitcher, standing just over five inches high, was the most unusual, yet attractive, piece in the whole set. It had the appearance of a hollowed-out branch, one cut from the tree where it branched from the main trunk. It was about four inches in diameter and, like the cup, it too had a twig-like handle. The set was also marketed in other designs and as a decorative piece to grace walls or display cases. One variety of the pattern which may have been decorated to look like the cross-section of a palm tree was quite unattractive to my eye. Other designs were more pleasing: the buffalo berry, wheat stalks, Alberta rose, a log cabin, and a western motif of a coffee pot and frying pan warming in a campfire.
The large ten-inch plates were used to make commemoratives such as the map of Alberta plate made in 1957. Holes were drilled through the back ring of some plates to take the wire for hanging them. A large hand-painted elk, moose or ram filled the center of the plate, and the name of an Alberta town was printed below. Wetaskiwin, Claresholm, Turner Valley and Banff can all be found if you can afford the asking price. These are highly collectible plates.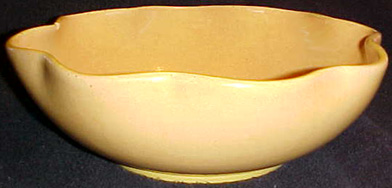 Just when Yuill gave up the Alberta Potteries is not known, but Malcolm McArthur left in early 1958 to set up his own business—New Medalta Ceramics—but more about that later. It is believed that Yuill's plant stayed in operation until Shorty Matuska leased it in 1966, at which time he established Medalta Potteries (1966) Limited.
Copyright rongetty.com, All Rights Reserved