Sunburst Ceramics Limited
Escargot serving plate
Sunburst was the last pottery to fire its wares in the old Medalta kilns. McArthur having lost everything in the fire sought a wealthy partner to help rebuild the Medalta plant. He soon found one in the Thrall family of Lethbridge, Alberta, who had built up considerable assets through their MacIntyre Ranching Company and Mountain Minerals Limited. Within a year or so, following the restoration of the fire-gutted buildings, the pottery was back in production making items under the name Sunburst Ceramics Limited. Malcolm was manager and part-owner of Sunburst, but not for long. Ralph Thrall Senior and Junior were not comfortable with having any partners, so they approached McArthur in 1961 offering to sell the business to him or buy him out. From the start the answer was written on the walls; there was just no way for Mac to raise the $100,000 or so to buy the plant from the Thralls. So Malcolm had to sell his share, even though he did not want to, and that was finally it for him. Malcolm left, vowing never again to get involved with another pottery.
From 1960 to '65 the company remained in Medicine Hat, but due to the continuing deterioration of the factory and the necessity to modernize the operation, the plant was relocated to Lethbridge, Alberta, in 1966. There the Thralls with considerable financial support from the Province poured hundreds of thousands of dollars into a new plant and the most modern equipment that money could buy. But it was never enough. The Sunburst plant in Lethbridge finally closed its doors in 1975 when the Alberta Government refused to pour more money into it.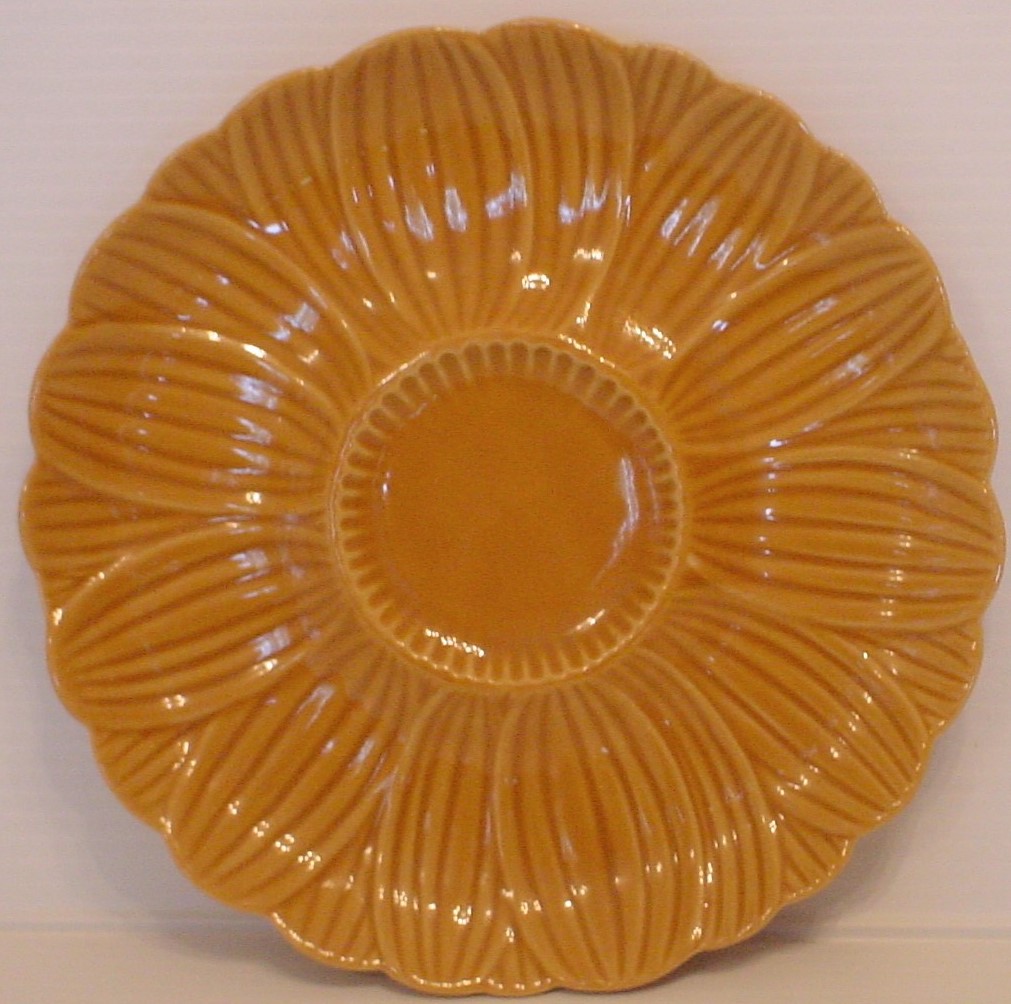 Onion serving plate
For a plant with a lifespan of only fifteen years, Sunburst Ceramics was indeed prolific, producing around 200 different products. Compared to Medalta, which made well over 700 different items during its history, 200 may not seem many; but, next to Medalta and the Medicine Hat Potteries, Sunburst had the most variable product-line of the potteries located in southern Alberta.
Copyright rongetty.com, All Rights Reserved