Plainsman Clays
Description: The longest-lived ceramic manufacturer in Medicine Hat, Alberta. The company makes pugged pottery clays for use in schools, hobby, small industry and by potters.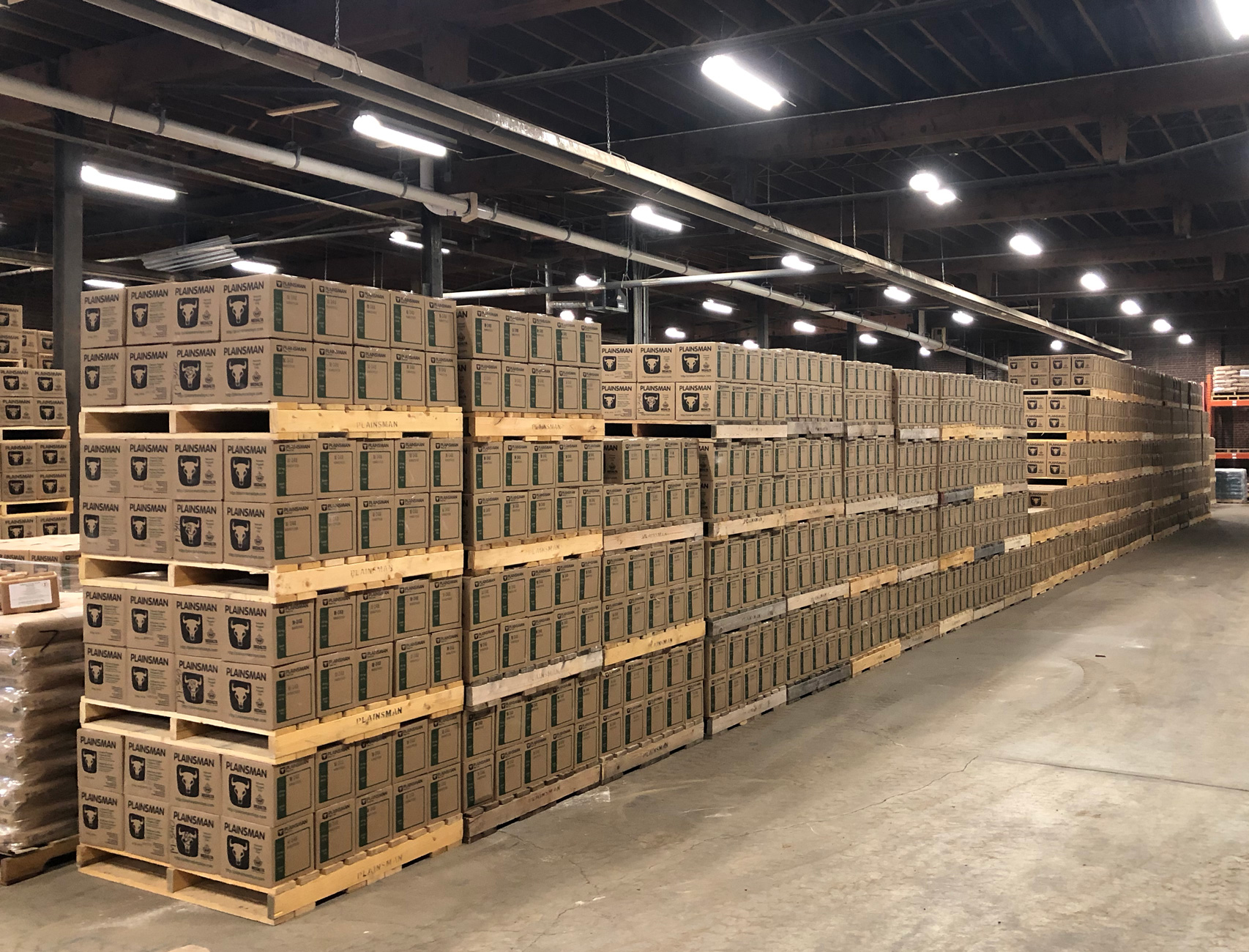 The main product of Plainsman Clays: 20 kg boxes of soft, ready-to-use clays, 50 different kinds.
A clay mining and processing company located in Medicine Hat, Alberta, Canada. Plainsman makes dry and pugged clay bodies for potters, hobbyists and schools in the west. It is the only company in North America (among about 45) that mines its own clay to make most of these products. Plainsman also produces powdered clays that are used by other pottery clay manufacturers and special purpose clays that are used across North America in a range of industries (e.g. manufacturing, smelting, health products, construction, refractories).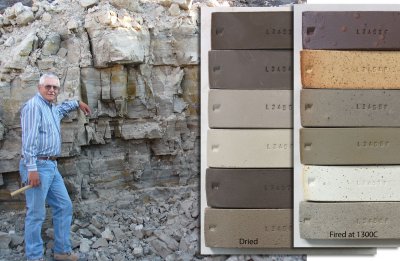 Mel Noble showing the layers in the Plainsman Ravenscrag quarry
Plainsman's existence is due to the convergence of various factors. It was started in a city having a ceramic manufacturing legacy since 1900, natural gas and clays resources and a dry climate conducive to ceramic manufacture. At the time brick, tile, sanitaryware, stoneware, tableware, porcelain insulators and glass products were all being produced. This made available factory space and the mining and machinery expertise that was needed. And it had the stories of the capable people who started each of the companies. The city also had a tradition of the "craft of ceramics". Thus, when Luke Lindoe, a combination artist, sculptor, potter, teacher, geologist, lab technician and dreamer came to the city in the 1960s magic happened when he discovered the quality of the sedimentary clay despots in the area. He was joined by John Porter, a British trained technician and potter with a flair for business. They set up shop and quickly developed a dealer network across Canada and the Pacific Northwest of the US.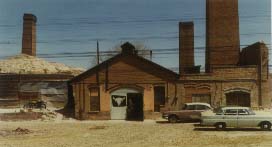 Plainsman Clays in 1962
Over the years Plainsman has maintained focus on supplying clay for pottery (resisting pressure to develop other markets that would distract from that). The vast majority of its products are sold wholesale through a dealer and store network. It has developed a solid product line and has large warehousing so that dealers can order at any time and expect quick delivery. Plainsman also buys a wide range of materials, supplies, equipment and tools from around the world, both for resale and incorporation into its products. A potter can walk in the front door and buy almost anything he/she needs to begin production immediately. Recent years have seen much growth in pottery as a hobby and cottage industry, Plainsman now has as many as 10,000 customers using its products.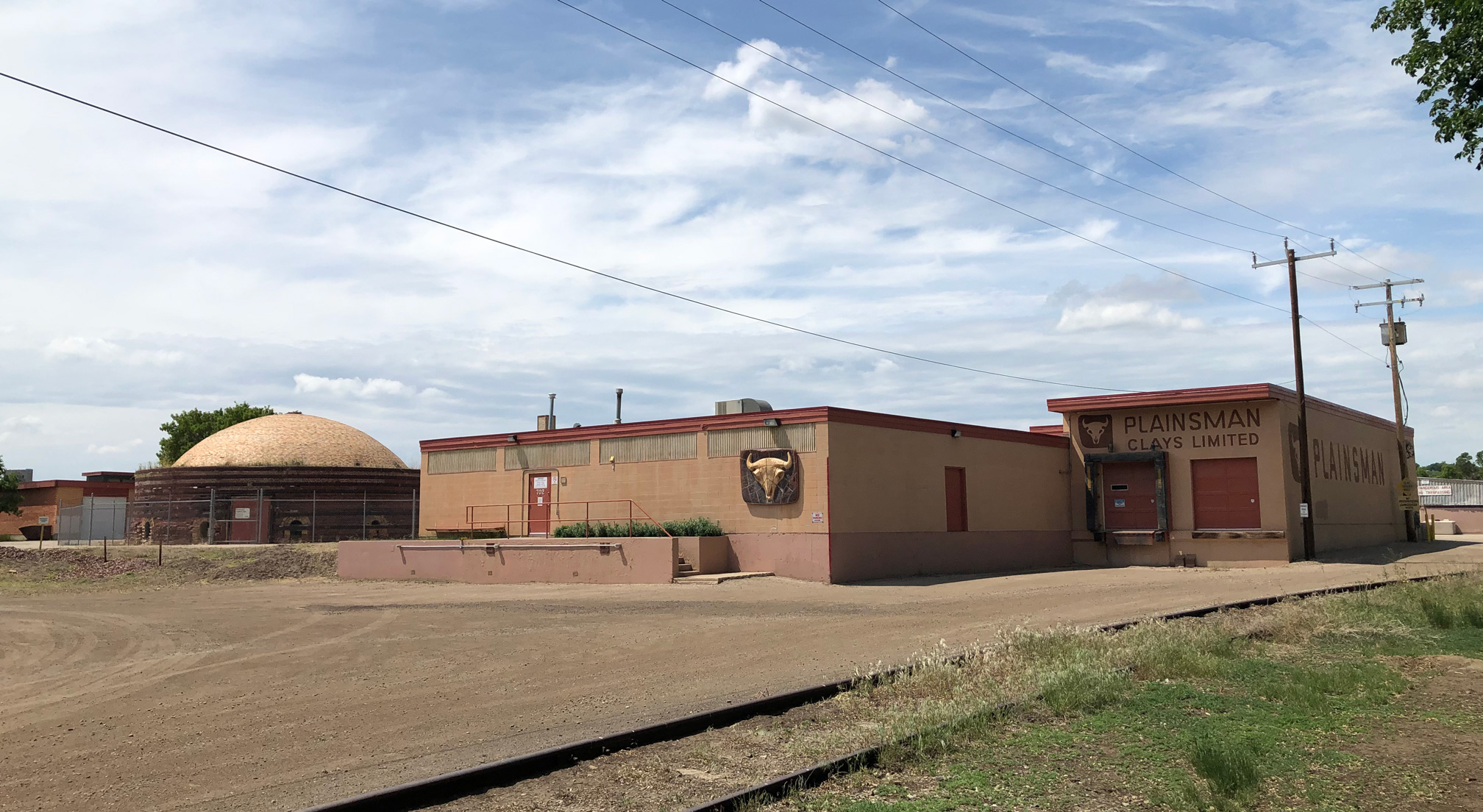 Plainsman Clays has also taken a leading role in providing online resources to assist its customers (and potters and manufacturers around the world) to have all the practical and technical guidance needed to make any type of product or to solve any problem.
Copyright rongetty.com, All Rights Reserved
Login - 35.175.107.142