The Paper Labels or P-Series
There is not much to say about this group of markings as so few varieties are known, and for the most part, the Medalta papers are mute concerning them. The one label designated P.4 is known from a single example that dates to 1936 or a few years later. The maple leaf decal (P.1) has one firm date for it thanks to a couple in Edmonton who received their cookie jar with this particular stamp on it as a wedding gift in 1931. Originally I had thought that this stamp dated to the mid-1930s or later; I had no idea it was in use so early.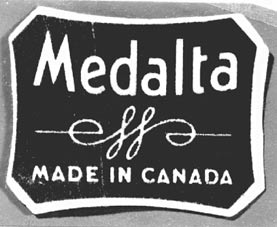 By far the most common of the paper labels are the pair found with silver lettering on a black background or with black lettering on a silver background. They too have been difficult to date as they are usually found on lamps or vases. They probably date to the mid-1930s as they are found on items introduced after 1932, but they are also found on pieces introduced as late as 1939 or 1940. A telegram dated 21 November 1935 asks that Medalta place Decalca stickers on items, but whether or not these are one of the paper labels found on products remains problematic. I think they are, but which one?
One of the letters in the 1938 Medalta files refers to paper labels which I believe are different from those seen so far. In part it states:
"In reference to the articles being made up for the Metropolitan Stores... It is essential that the items not marked 'Made in Canada' such as the plain bowls, the harlequin bowl set and the white lined bowls be labeled. We are having these labels made now... and we have placed an order for one hundred thousand of these, five thousand of which are to be marked with 'Medalta Ovenproof'. These are costing at the rate of 75 cents per thousand."9
On July 5, 1938, the labels were sent to Medalta with the instructions: "We think it advisable that [for] the Bowls in the Harlequin Bowl Set, that the label be put on the inside of the Bowl and perhaps on the side of the Casserole or else on the cover." To date, I have not seen any "Medalta Ovenproof" labels, but they could well be hard to find considering where they were instructed to place them. The owner probably would have removed them immediately: but, if not, they certainly would have come off during the first few washings.
Finally, in closing this section I should point out that I have not seen a great number of items with any of these paper labels on them. Presumably, the labels were easily lost due to poor adhesion of the gum. As to when and why they were used, we put that question to several of Medalta's employees. One informant suggested that they were used to mark items with no other clear Medalta identification mark. This undoubtedly is true for many items, but you can certainly find pieces with a very clear impressed stamp that also has a paper label on them. Another explanation given by an employee was that any products made for the export market had to clearly indicate Canadian manufacture, and the gummed labels could have filled that requirement.
Copyright rongetty.com, All Rights Reserved