Style Names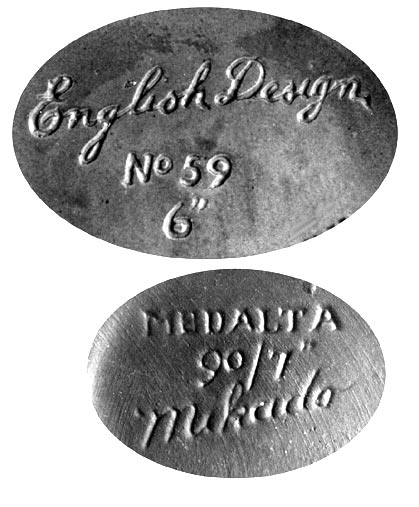 In 1932 when the new vases came out, many of them were also given style or pattern names which were placed in the mould. Medalta continued to assign names off and on over the years and one in particular, Polygon, appears to have been a favourite as it was used over and over again. Polygon, unlike most of the other names, described the overall shape of the piece as all items with this name had fluted sides. "Polygon" can be found on bulb bowl style No. 21, jardiniere No. 23, two mixing bowls, a casserole and a teapot. The other style names given to, and found on, products over the years are listed below.
vase No. 2 - Asia
vase No. 3 - Edward
vase No. 60 - Hexagon
vase No. 61 - Egypto
vase No. 62 - Rosetta
vase No. 65 - Amour
vase No. 70 - Betty
vase No. 90 - Mikado
vase No. 131 - Victory
jardiniere No. 59 - English Design
pitcher - Cyma
pitcher - Elite
pitcher - Cypress
spittoon - Commodore
Dominion cup - CHARM
The Medalta records refer to a few other vases and lamps by name, but as yet the names have not been found on any items. They include:
lamp - Robinson
lamp No. 9 - Globe
lamp No. 12 - Regal
lamp No. 14 - Edward
lamp No. 15 - Eton
vase No. 101 - Yoko
vase No. 103 - Pekin
In ending this section, I would like to point out that with the exception of "CHARM" all of the style names found so far have been impressed, and all have been in script style lettering, even the name "Cypress" which was quite a late addition to Medalta's ever-expanding line of wares.
Charm is the only pattern name in block style lettering applied using an oxide, and it appears to have been a separate rubber stamp (G.58) made up to mark the cup and saucers finished with an encircling decorative band.
Copyright rongetty.com, All Rights Reserved