The Final Word
To close the story on Medalta, I would like to warn you that at least one Medalta stamp - and perhaps others - was used by Medalta Potteries (1966) Ltd. to mark some of its products. When I asked Roy Ogilvie the owner of Medalta (1966) Ltd. about this, he told me that it was simply a matter of expediency. At the time, his pottery did not have a stamp small enough to fit the bottom of little items such as cups and jam jars, but he did have a box full of old Medalta stamps. In this box, he found an original Medalta stamp that would do the job and thus came about the marking of some of his pottery's items with an old Medalta stamp.
The Medalta stamp that he used is the one assigned number G.46.a and so far it has been found on a cup with fluted sides, a cream and sugar set, a flask-shaped bottle and a jam jar decorated with a turtle in relief on the side, but I am sure that other items will be found that have this or another original Medalta stamp on them.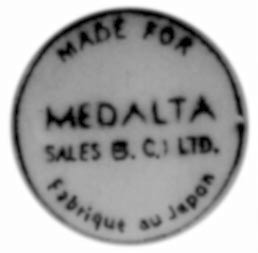 There is one other stamp that I should mention and it is the one used to mark items made for Medalta Sales (B.C.) Ltd. This company was a distributor for Medalta's products on the west coast, and obviously, they were obtaining products from elsewhere - in this case, Japan - after Medalta closed. Do not let this stamp fool you. While it may be desirable to add a piece with this stamp on it to your collection, it is not one made in Medicine Hat.
A second distributor of Medalta's products, Medalta Sales Reg'd of Montreal, used a similar name, and I would not be surprised if someone eventually finds a non-Medalta piece made for this company as well.
Finally in this brief discussion of odd stamps I would like to correct some misinformation that I have passed along to some collectors. Two of the stamps definitely confirmed to have been used by Medalta (G.61 and G.70) bear the words "British Empire Ware". This suggested to me that other patterns besides "Aristocrat" and "Confetti" also marked British Empire Ware may have been made by Medalta, and as a result, some collectors, including myself, started picking up patterns such as "Treasure O' Gold", "Du Berry", "Goldcrest", "Charmiam" and "Peach Blossom". However, no evidence has been found to indicate that any of these other patterns were made by Medalta, and I am now convinced that they were made by an eastern firm, perhaps the Sovereign Potteries.
Copyright rongetty.com, All Rights Reserved